Normal Work
Pauline Boudry / Renate Lorenz
Installation with film and
13 photographs, 2007
Performance: Werner Hirsch
Hannah Cullwick not only cleaned from early in the morning to late in the evening in various households, she also produced a series of remarkable staged photographs, numerous diaries, and letters. These materials present her strengh, her muscles, and her big, dirty hands: embodiments of her gender that were obviously directly connected with her working practices and which she was very proud of. Hannah Cullwick's portraits and self-portraits, which show her not only as a domestic servant, but also in "class drag" or "ethnic drag", where part of a sadomasochistic relationship that she had with Arthur Munby, a man from the bourgeois class.
Interestingly, it was the elements of her hard work in the households that provided the material for their shared SM scenes. The work that Cullwick carried out as a domestic servant was later restaged together with Munby in their meetings in his home.
The crossings of social positions that she staged in the photographs - which show her as a bourgois woman, as a young bourgois man, or as a slave in blackface - partly also play a role in Cullwick ́s everyday life, for instance when she traveled with Arthur Munby in "bourgeois drag".
The photographs can be understood as a technology to control these crossings, or to reflect on the great efforts and constant delibaration that were connected to them. The film "normal work" asks whether the cros- sings of social hierarchies of class, gender, and "race" that Hannah Cullwick staged and that she obviously desired have today become generalized into a paradoxical requirement in the field of labor.
In the film we watch the performer Werner Hirsch / Hannah Cullwick attempt to imitate Hannah Cullwick's poses as precisely as possible.
Werner Hirsch / Hannah Cullwick orients him/ herself to his/her memory, to a mirror, or to a "model" that is not in the image, or to instructions that are called out to him/her, also from outside the space of the frame.
Since two different historical moments (Victorian times and the present day) and two places of expression meet each other in the film, contradictory references arise. The historical photographs are placed in the context of contemporary drag performances and reworkings through gender binarity. Taken in the other direction, contemporary performances are placed next to a historical predecessor, in which the relations between sexuality and work were negociated.
Der Ausgangspunkt des Filmes sind außergewöhnliche Selbstportraits der "Maid of all work" Hannah Cullwick aus dem viktorianischen London. Vier der Phtotographien, die Hannah Cullwick als Hausangestellte, als bürgerliche Frau, als bürgerlichen Mann und als "Sklaven" zeigen, werden im Film reinszeniert.
Diese Photographien aus den 1860er Jahren sind im Trinity College, Cambridge archiviert und wurden noch nie in einem Kunstkontext gezeigt. Da das Material für diese Zeit einen Skandal darstellte, wurde das Archiv erst 50 Jahre nach dem Tod der Maid Hannah Cullwick geöffnet.
Hannah Cullwick putzte nicht nur von früh morgens bis spät abends in verschiedenen Haushalten, sondern sie produzierte auch eine Reihe erstaunlicher inszenierter Photographien, umfangreiche Tagebücher und Briefe. Diese Materialien inszenieren ihre Stärke, ihre Muskeln und ihre schmutzigen großen Hände: Verkörperungen ihres Geschlechts, die offensichtlich direkt mit ihren Arbeitspraxen verbunden waren und auf die sie sehr stolz war. Hannah Cullwicks Porträts und Selbstporträts, die sie nicht nur als Hausangestellte, sondern auch in "Class Drag" oder "Ethnic Drag" zeigen, waren Teil eines sadomasochistischen Verhältnisses, in das sie mit Arthur Munby, einem Mann der bürgerlichen Klasse, involviert war. Interessanterweise waren es Elemente ihrer harten Arbeit im Haushalt, die das Material für die gemeinsamen SM-Szenen abgaben.
Die Durchquerungen sozialer Positionen, die sie auf den Photographien inszenierte, spieten teils auch in Cullwicks Alltgagsleben eine Rolle, wenn sie etwa mit Arthur Munby in "bürgerlichen Drag" verreiste. Die Photographien können als eine Technologie verstanden werden, diese Durchquerungen zu kontrollieren oder die die damit verbundenen großen Anstrengungen und beständigen Überlegungen zu reflektieren.
Der Film "Normal Work" fragt, ob sich die Durchquerung der sozialen Hierarchien von Klasse, Geschlecht und "Race", die Hannah Cullwick inszenierte und die sie offenbar begehrte, heute im Feld der Arbeit als paradoxe Anforderung verallgemeinert hat.
Le point de départ du film est la panoplie des extraordinaires autoportraits d'une bonne à tout faire, Hannah Cullwick, londonienne de l'époque victorienne. Quatre photographies ont été (re)mises en scène dans le film, la montrant en bonne, en lady, en homme bourgeois, et en esclave.
Ces photos de 1869 ont été archivées au Trinity College de Cambridge et n'ont pas encore été présentées dans un contexte artistique. Ce matériel avait été scellé pour 50 ans après la mort d'Hannah Cullwick, afin d'éviter un quelconque scandale.
Tout en travaillant de l'aube jusque tard le soir, Hannah Cullwick réussit à produire une série de mises en scène photographiques remarquables, un grand nombre de journaux intimes et d'innombrables lettres. Ces photographies manifestent sa force, mettant en valeur ses muscles et ses mains, aussi grandes que sales et rouges. Elles témoignent de son genre (gender), qui est lié à son travail de façon fondamentale, ce dont elle était très fière. Les portraits et autoportraits où elle se montre en tant que domestique, mais aussi en "class-drag" ou en "ethnic-drag", participent d'une relation sado-masochiste qu'elle entretenait secrètement avec Arthur Munby, appartenant à la classe bourgeoise de l'époque.
Il est intéressant de noter que ce sont les outils mêmes de son dur labeur qui sont à l'origine de l'inspiration des scènes SM dont ils étaient les protagonistes
Le passage d'une position sociale à l'autre qu'elle met en scène dans ses photographies jouait un rôle dans sa vie quotidienne, car elle voyageait, par exemple, avec Munby déguisée en lady. Ces photographies peuvent être envisagées sous l'angle d'une technologie lui permettant de contrôler ses changements de position sociale, et d'une réflexion sur les immenses efforts que ces dépassements exigeaient d'elle.
Le film "normal work" demande si le "franchissement" des hiérarchies sociales, de "classes", de "genres" et de "races" qu'Hannah Cullwick mettait en scène, et qu'elle désirait, de toute évidence, ne s'est pas généralisé dans le domaine du travail, ce qu'on pourrait alors qualifier d' "exigence paradoxale".
Informations on the film:
Film Material: 16 mm. / DVD
Length: 13 Min. Loop
Backdrop Photograph: Del Lagrace Volcano
Camera: Bernadette Paassen
Sound: Karin Michalski
Sound Design: Rashad Becker
Information on photographs:
13 Phtotographs from 1860 until 1904 of Hannah Cullwick
Courtesy: Munby Archive, Trinity College Cambridge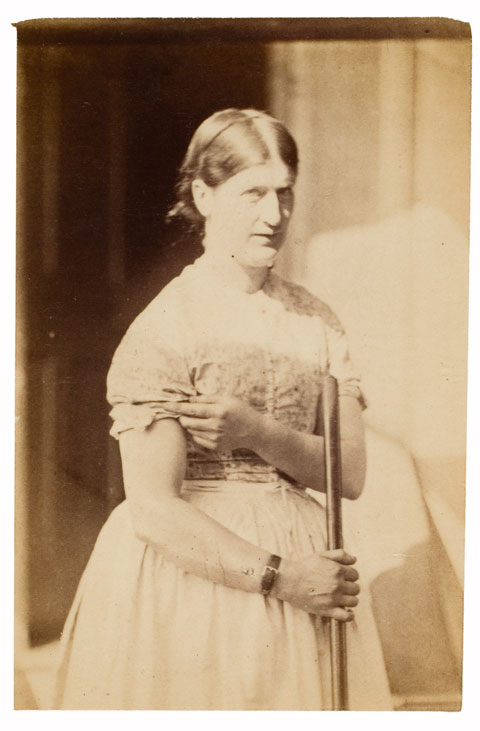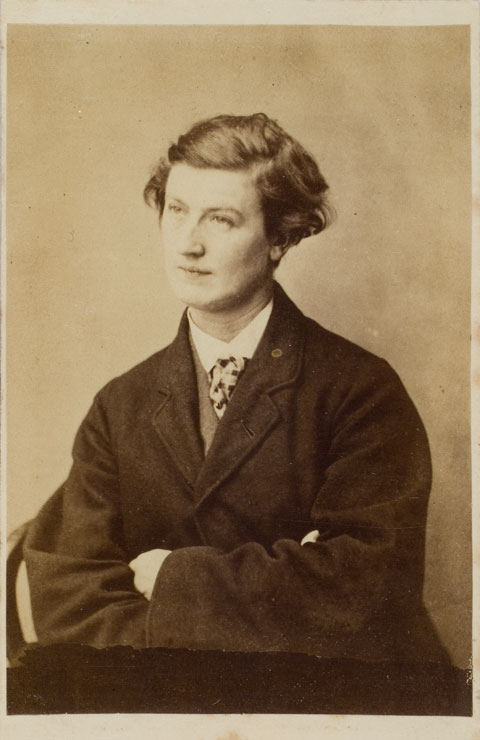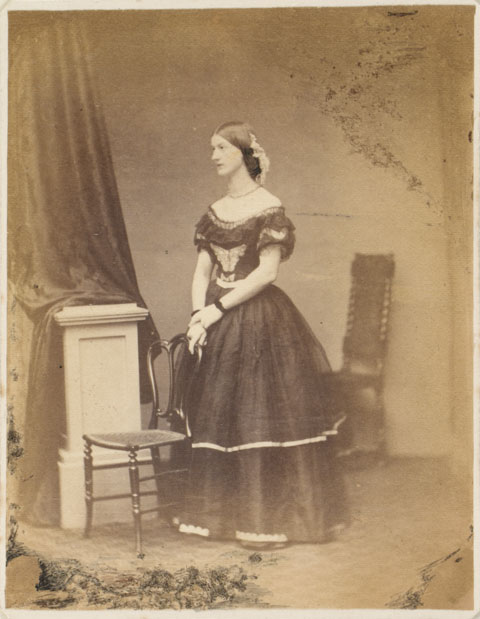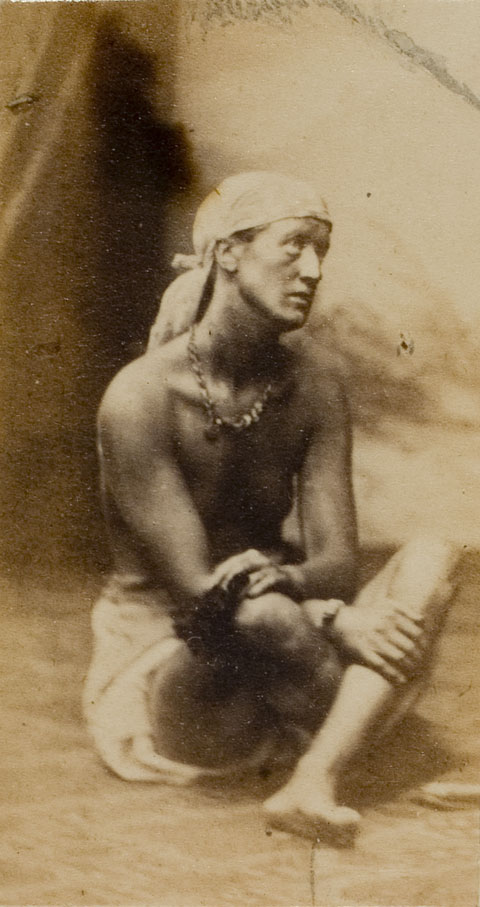 Hannah Cullwick;
as a maid 1867,
as a bourgeois man 1861,
as a slave1862,
as a lady, not specified.